What's in the GelMoment Starter Kit? Let's take a look! 
Your GelMoment starter kit/enrollment kit comes with all the necessary products and tools to get you started with your new business. It's a business in a box to help you hit the ground running!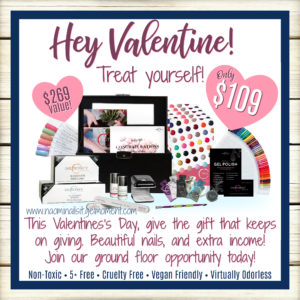 The February Enrollment Package includes:
1 Complete Set of GelMoment Classic and GelMoment 30 Hand-Painted Nail Sticks
1 Set of Nail Files
1 LED Lamp
1 Cuticle Pusher
1 Cleansers (50 Pack)
1 Removers (100 Pack)
2 GelMoment Polishes
5 Product Guides (Catalog)
20 Application-Thank You Cards
25 Generic Business Cards
1 Distributor Guide
1 Eclipse sample size
1 Plume sample size
1 Aurora sample size
1 Mirage sample size
1 Kasmiri sample size
1 Gel Go Rank Level Charm
Welcome Letter
1 Year eWallet Fee (Value of $24)
1 Year Website Maintenance Fee (Value of $49)
1 GelMoment hard-cover faux-leather make-up case with mirror Enrollment Box

All Enrollment Package contents are subject to change and may be replaced with an item of equal or greater value. 

Processing time for Enrollment Packages can take up to 7 business days, plus up to 10 business days for shipping, depending on location. 
Our Enrollment package is currently only $109, for a product value of $269.25!
This Enrollment price is good through February 28th, 2018.
The enrollment package keeps you at an 'Active' distributor status for your first 90 days. To remain active, you'll need just $200 in Personal Retail Volume every 90 days! The only fees required after enrollment are your Website and eWallet fees. These total just $73 and would be due on your anniversary each year.
Ready to get started with your GelMoment journey? Join My Team!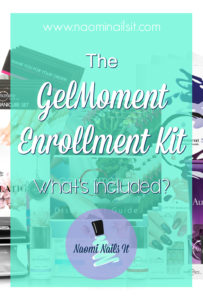 5